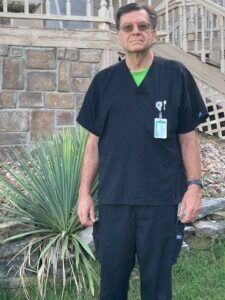 It's with great pride that we announce Clifford Haak—Med Tech, as our September Traveler of the Month!
Clifford was born in Hagerstown MD, which technically makes him a southerner. as it is 4 miles south of the Mason-Dixon line. He grew up wanting to be either a mad scientist or a car mechanic, specializing in Corvettes. His father was a physician and his mother, a nurse. Possessing that kind of DNA, the medical profession was the only way for him to go.
He toyed with going into forensic science, especially after touring the FBI lab in Washington DC close to where he attended college. He also considered a tour on the City of Hope Hospital ship. He have been blessed to have worked in the laboratory field for over 40 years, which brings him close to being a mad scientist. (A point of interest is that have never owned or driven a Corvette.) He has dabbled in teaching, administration, consulting, and yes, as bench tech.
Now, he find himself a rookie again, in the traveling industry.  With the love and support of his wife of 30 years, and furry kids (dogs and cats), He is finally getting to learn the ropes. He has made a few new friends that he keeps in contact with regularly. His contracts, so far, have been with the intent of helping labs get ready for inspections, as well as, covering the bench.  Every day is a new adventure, which he enjoys. He is currently on a repeat assignment working in Blood Bank, which is his favorite department. So, it does not get any better than that.
"Clifford was my very first traveler and is now coming up on assignment #4 with me. He reaches out to me and keeps me updated any time there is a change in schedule. He is super friendly and recently we have talked about all of his home renovations he is working on. He just had the manager from Saline Hospital in Benton AR reach out to him asking him to come back and he called me right away to let me know and we got a contract that same day (which he ended up signing within the hour). He has a lot of industry experience as he has been a Med Technologist since 1977 and has even been a lab director for a few years. He has never had one complaint, is very appreciative, and is a loyal traveler." says McKenna Thorngren, his healthcare recruiter.
Congratulations to Clifford on this well-deserved recognition!
Clifford is another excellent example of why Focus Staff is a recognized leader in travel healthcare placement. We're experts in finding travelers with the skills and experience needed to fill a wide range of healthcare employment opportunities. If you're a traveling healthcare worker looking for that next great assignment, contact us today.