Ashley Hotovec | May 31st, 2023
One of the pros of travel nursing that everyone knows about is the flexibility that comes with the job. However, it can be easy for a travel nurse to run into some issues when it comes to practicing in a new state. A compact license, or multi-state license opens new experiences and gives you more freedom than you've ever had before – the ability to practice in several states while saving you some cash. Let's dive into everything the Nurse Licensure Compact has to offer.
What is the nurse licensure compact?
The Nurse Licensure Compact is a multistate license that allows a nurse or LPN to work in his or her home state, as well as all the other compact states. No more pulling your hair out trying to navigate the licensing process for each state you want to travel to for work. With the compact license, you get a single license that works across state lines – that means more flexibility and more job opportunities!
What are the requirements?
To be eligible for a compact license, your primary state of residence must be a member of the NLC and you should meet these uniform licensure requirements:
Meet requirements for licensure in primary state of residence
Has graduated from a board-approved education program; has graduated from an international education program
Has passed an English proficiency exam
Has passed an NCLEX-RN or NCLEX-PN exam
Eligible or holds an active, unencumbered license
Submitted to state and federal fingerprint-based criminal background checks
Has not been convicted, or has entered an agreed disposition, of a felony offense under applicable state or federal criminal law
No misdemeanor convictions related to nursing
Is not currently a participant in an alternative program
Required to self-disclose current participation in an alternative program
Has a valid U.S. Social Security number
Why do I need a compact license?
Travel nurses bounce around from state to state to explore different healthcare settings and lend a hand where there's a shortage of nurses. If this sounds like something you want to start doing, you need a compact license for these reasons:
Saves you time
Saves you money in licensing fees
Easily move states and practice nursing with no delay
What states have the NLC enacted?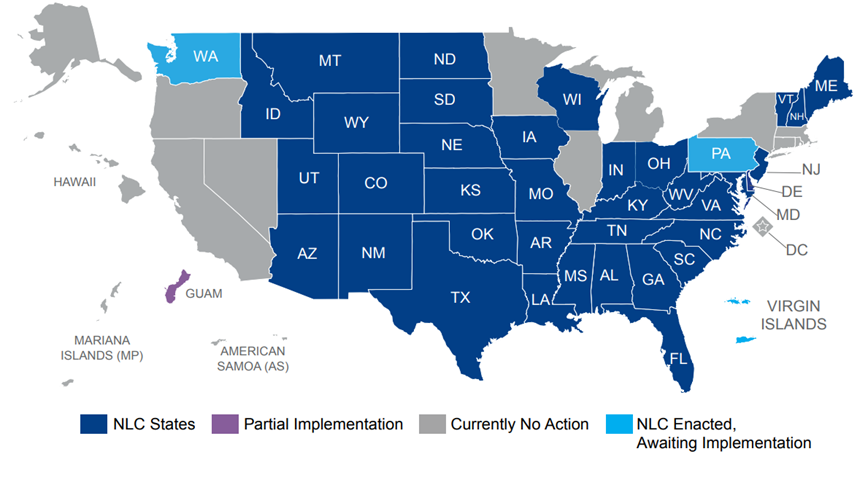 How hard is it to get?
As a nurse or licensed practical nurse, you should have the following:
Required documentation
Complete any background checks
Ensure you meet the educational criteria
While there are specific requirements you must meet, the overall process is streamlined to facilitate mobility. Just make sure you've got your paperwork in line, jump through the necessary hoops, and you'll be on your way to nursing freedom across state lines. You got this!
The Nurse Licensure Compact is here to make your lives easier, more adventurous, and provide you with new opportunities. It's like having a passport to practice nursing wherever your heart desires! So, apply for that compact license, grab your stethoscope, and get ready to embark on a new adventure that knows no borders!
If you aren't already heading to your next assignment, let's chat! 😊
Email [email protected] to get connected with a recruiter!
Apply Here to get started today!