Elevate your holiday season with extra cash! Through our Travel Holiday Bonus Program, travel nurses can potentially earn up to $1,200* in bonus pay, while travel allied health professionals have the opportunity to earn as much as $1,000* in bonus pay by working travel holiday shifts. 
How does it work? The more you work, the more you can earn! By participating in a Focus Staff travel assignment on any of the following holidays, you become eligible for a bonus: 
Thanksgiving Day (November 23rd) 
Christmas Eve (December 24th) or Christmas (December 25th) 
New Year's Eve (December 31st) or New Year's Day (January 1st) 
That's right! Travel nurses and allied health professionals could potentially earn up to $1,200* in total holiday bonuses when working three holiday shifts with Focus Staff this upcoming holiday season.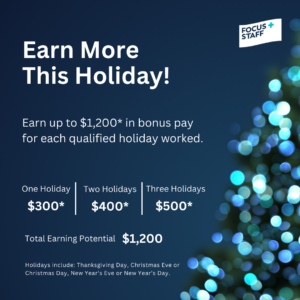 Who's Eligible? Travel nursing and allied health professionals, including: 
Travel Nursing Professionals: 
Travel Allied Health Professionals: 
How to Begin?  
If you're ready to embark on a Focus Staff travel assignment for the upcoming holiday season, sign up here, and one of our recruiters will be in touch. You can explore all available travel job opportunities here. 
What to Keep in Mind? 
Certain conditions apply. To qualify for the Focus Staff holiday bonus program, you must complete a scheduled shift on one of the holidays listed above. Payment will be processed only after the shift is successfully completed and timesheet approved. To be eligible for the bonus, you must work the holiday with no (RTO) requested time off in the week of the holiday. Qualifying holidays include Thanksgiving Day, Christmas Eve, Christmas Day, New Year's Eve, and New Year's Day. For specifics on what shifts constitute a holiday, consult your recruiter. Holiday bonuses are exclusively available for travel contract assignments. Per diem, non-travel contract assignments, and employees already mandated to work on a holiday are exempt and not eligible for the holiday bonus program. Focus Staff reserves the right to discontinue the holiday bonus program at any time.