Ashley Hotovec | July 1st, 2023
We've got some exciting news to share. Our very own Greg F. has snagged the title of July's Traveler of the Month at Focus Staff! He's completed five assignments and is currently rocking his sixth. But there's more to Greg than just numbers. He's become part of our travel fam, spreading good vibes, and sharing unforgettable moments. He even got an arm tat that symbolizes his favorite Focus Staff assignment! Get ready for the lowdown on our friend Greg and his awesome connection with the Focus Staff crew.
Getting to Know Greg:
Greg is a true Focus Staff beast. He's not just an exceptional traveler; he's also our unofficial hype person. Greg's constantly hooking up fellow travelers with referrals, and he's even formed a solid friendship with George B, our previous Traveler of the Year. These guys are on a mission to conquer the travel world together.
Building Connections:
We're all about building connections that go beyond work, and Greg does just that. Greg's recruiter, Dallas Crawford, has shared countless meals, drinks, and even cheered on his brother-in-law's football games together. But Greg doesn't stop there. He's always surprising us with unique whiskeys he discovers on his assignments or bottles of wine he's become quite an expert at making. Who knew work could be this fun?
A Tattooed Memory:
As a lasting memento of his favorite assignment in Denver, Colorado, Greg decided to get a tattoo permanently etched onto his arm! This act of devotion speaks volumes about his passion and dedication not only to his work but also to the meaningful experiences he has had with our company.
Weathering Challenges Together:
It hasn't always been smooth sailing for Greg. He's faced his fair share of challenges along the way. From dealing with tricky situations at facilities to tackling unexpected roadblocks, Greg has shown us what true resilience looks like. Through thick and thin, he's stuck by our side, and we couldn't be more grateful for his unwavering support.
Greg is the embodiment of everything we stand for at Focus Staff—hard work, loyalty, and creating unforgettable memories. His infectious energy and unwavering commitment have made him a worthy recipient of the July Traveler of the Month title. Greg, we can't thank you enough for being a part of our Focus fam and bringing sunshine to our days. Here's to many more epic assignments and unforgettable moments together!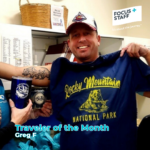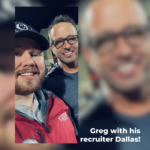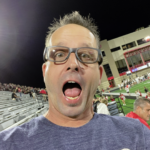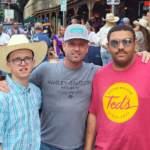 If you're a traveling healthcare worker looking for that next great assignment, contact us today.
Like what you're reading? Read more here: Journey Beyond Radiology: Becoming a Travel X-Ray Tech