DALLAS, TX – September 22nd, 2023 – Focus Staff, a leading healthcare staffing and workforce solutions provider, has been recognized as one of the fastest-growing middle-market companies in Dallas-Fort Worth for 2023 by the Dallas Business Journal. Focus Staff ranked No.3 on the list with 597.20% growth over a three-year period. This recognition reaffirms Focus Staff's unwavering commitment to excellence, innovation and satisfaction.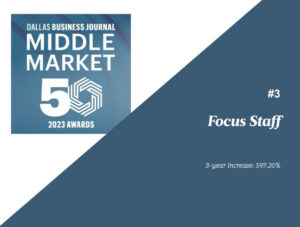 Focus Staff Makes 1st Appearance in Top 3 
Dallas-Fort Worth has long been known for its thriving business community and strong economy. At the heart of that success are the middle-market companies critical in driving our region's economic growth and job creation. – Dallas Business Journal
"We are thrilled to be recognized by the Dallas Business Journal as one of the fastest-growing companies in Dallas-Fort Worth,", said Kyle Rhodes, CEO and Founder of Focus Staff. "This achievement reflects the dedication of our team, the trust of our clients, and our relentless pursuit of delivering top-notch staffing solutions."  
Focus Staff has witnessed extraordinary growth, propelled by its dedication to delivering outstanding staffing solutions across healthcare. The agencies customer-centric ethos, coupled with its forward-thinking strategies, has established it as an industry frontrunner.
Amidst a fiercely competitive landscape, Focus Staff stands out by virtue of its individualized staffing methodology, leveraging technology and strong customer service to connect adept professionals with fitting roles. The ongoing commitment to enhancing its workforce, operational procedures, and technological capabilities has been the driving force behind its remarkable expansion.
For media inquiries, please contact: 
Senior Digital Marketing Manager 
954-918-9891 
Source: Focus Staff 
About Focus Staff: 
Focus Staff is a leading staffing and workforce solutions provider dedicated to connecting talented individuals with exceptional job opportunities. With a focus on innovation, excellence, and client satisfaction, Focus Staff has rapidly emerged as a prominent player in the staffing industry. Through its personalized approach and cutting-edge technology, the company is committed to helping businesses thrive and professionals succeed. For more information, visit focus-staff.com.