We're very happy to recognize George Benson, as our December Traveler of the Month!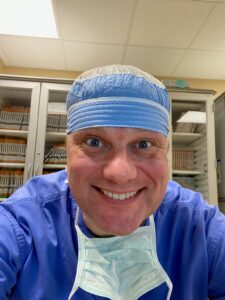 George's story begins when he was 11 years old and was in a car accident that broke his leg. He had extensive damage that necessitated numerous X-rays. His interest in radiology grew as a result of all of his doctor visits and treatments over the years.
Straight out of high school, he was accepted into the radiology program at Carteret Community College in Morehead City, North Carolina. He then began working as a patient at Onslow Radiology Center, where he met his wife. Ian and Emma are his two wonderful children. His wife and he recently celebrated their 23rd wedding anniversary. His specialties are interventional radiology and cardiac catheterization, and he is celebrating his 25th year in the field.
In 2003, He began his traveling adventure along with his family and has been to multiple states and hospitals and has learned so much along the way.
He joined Focus Staff in 2017, and the company has consistently exceeded his expectations. He mentioned fantastic job opportunities, excellent pay, and, most importantly, staff who are both friendly and professional, which made his Focus Staff experience amazing.
Congratulations George!
George is another great example of why Focus Staff is a recognized leader in travel healthcare placement. We work hard to find travelers with the skills and experience needed to fill a wide range of healthcare employment opportunities. If you're a traveling healthcare worker looking for that next great assignment, contact us today.