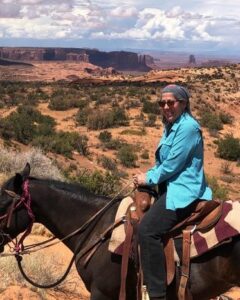 We are delighted to highlight Jane Merschen—Med Tech, as our October Traveler of the Month!
Jane has been working as a clinical lab scientist (CLS) for over 30 years. She has lived in the bay area pretty much her whole life and loves it! When she's not working in the lab, she is assisting medical equipment companies with product demonstrations and trainings.
She loves the outdoors, especially being able to visit Mesa Verde and the cliff dwellings while on assignment in Arizona with us. She was an absolute joy to work with, and her colleagues at IHS had nothing but great things to say about her as well.
Congratulations to Jane on this well-deserved recognition!
Jane is another excellent example of why Focus Staff is a recognized leader in travel healthcare placement. We're experts in finding travelers with the skills and experience needed to fill a wide range of healthcare employment opportunities. If you're a traveling healthcare worker looking for that next great assignment, contact us today.