We're proud to announce our February Traveler of the Month: Paige Miller.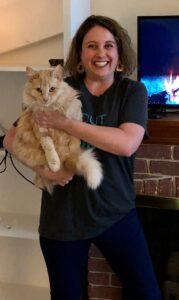 Paige is an experienced Echocardiograph Technician who has now worked six contracts for Focus Staff, all with glowing references and extensions offered. Paige's recruiter, Focus Staff's Nicole Messer, says that Paige has single-handedly shown her what this career is all about.
"She told me back at the beginning that she could feel this was the start of a long and successful team," says Nicole. "And that's what we've become. There are no other agencies she speaks with, no other job boards she scours… her heart is with Focus Staff."
Paige exhibits all that it means to be a true Focus Staff employee – a strong work ethic, a heart of joy, and a drive to constantly be better. Even when faced with the most challenging clients and facilities, Paige holds her head high and gets the job done with no complaints. "I am a better recruiter for working with her," says Nicole. "I am so proud that she represents us every day."
Congratulations to Paige on this well-deserved recognition!
Paige is a perfect example of the skilled and dedicated healthcare professionals who partner with Focus Staff. We find travelers with the experience needed to fill a wide range of healthcare employment opportunities. If you're a traveling healthcare worker looking for your next great assignment, get in touch with us today.