We're thrilled to recognize Shelly Wendling, a PACU RN – as our July Traveler of the Month.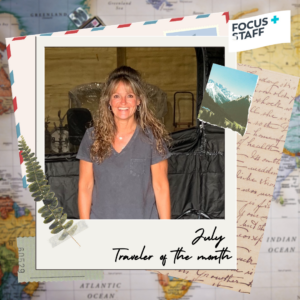 Shelly Wendling is a very talented PACU RN who has 21 years of experience. She was super nervous to start her first travel assignment with us but has loved every minute of it! She has enjoyed it so much, she is on her 3rd extension that facility! She is super excited to continue the travel life.
Her positive sweet attitude has made it so easy to work with her each day. She was one of my first travelers so we both have learned together. She has sent me over 4 referrals to work with and they have all been so easy and fun to work with. Whenever Shelly is not working, she loves being outside. The beach is one of her favorite places to be at. She enjoys hiking, walking, and gardening. On winter days, she enjoys flying somewhere warm!
Congratulations to Shelly on this well-deserved recognition!
Shelly is a perfect example of the skilled and dedicated healthcare professionals who partner with Focus Staff. We find travelers with the experience needed to fill a wide range of healthcare employment opportunities. If you're a traveling healthcare worker looking for your next great assignment, get in touch with us today.