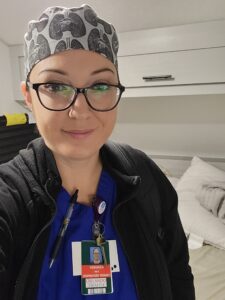 We are ecstatic to announce Veronica Wunderink—RRT, as our November Traveler of the Month!
Veronica started her Journey with Focus Staff back in January of 2021. She has been the epitome of the perfect Traveler ever since! Since joining Focus Staff, Veronica has been a true asset, not only to the company, but to our clients in NC, CT, and FL.
After graduation, Veronica began her career in Respiratory Care at Valley Hospital in Las Vegas. Since then, she's worked in some of the most prestigious facilities, within some of the largest healthcare systems in the country.
Congratulations Veronica!
Veronica Wunderink is one more example of the many excellent travel healthcare professionals who have partnered with Focus Staff to help build a successful and rewarding career. If you're a travel nurse or traveling healthcare worker looking for that next great assignment, reach out to the experts – contact us today.