Ashley Hotovec | June 27th, 2023
Summer is the perfect time to embark on exciting travel assignments and explore new destinations. Whether you're a travel enthusiast or a healthcare professional seeking new opportunities, the United States offers a diverse range of states to discover. Last week, Focus Staff hosted a webinar with two of our very own healthcare recruiters, Rhiannon Harpel and Brodie Alan, to talk through summer assignments and housing tips. Let's dive into some of the highlights they touched on and explore some of the best states for summer assignments.
New York: New York is a state that has something for everyone. Explore the vibrant city of New York, visit surrounding towns, or venture to the stunning Adirondack Mountains. With over 3,000 lakes, the Adirondacks offer the perfect summer temperatures and ample opportunities for outdoor activities and water sports.
West Virginia/Virginia: Immerse yourself in the serene beauty of West Virginia and Virginia. Spend your days at picturesque lakes, savor farm-to-table cuisine, and delve into the rich historical heritage of both states. Whether it's hiking through the Appalachian Mountains or visiting charming towns, these states have plenty to offer.
Texas: Be open to assignments in 3 of the biggest cities in Texas – Dallas, Houston, and Austin! Don't want a big city? Embark on a new adventure in all the in between towns! Focus Staff is in the heart of Texas, DALLAS! We have direct relationships with local facilities and always love it when our travelers stop by.
Wisconsin: From Green Bay to Lake Winnebago and the bustling city, Wisconsin provides a diverse range of experiences. Embrace the charm of small-town life, discover the beauty of the Great Lakes, and indulge in the state's famous cheese culture. Wisconsin offers a mix of urban adventures and outdoor exploration.
Kentucky: Immerse yourself in the sounds of bluegrass music and enjoy the culinary delights of endless BBQ and farmers' markets. Kentucky is a treasure trove of distilleries, horse farms, and scenic landscapes. Dive into the rich cultural heritage and explore the natural beauty that this state has to offer.
New Hampshire: For a perfect blend of outdoor adventures and coastal delights, head to New Hampshire. Hike the magnificent White Mountains, explore quaint towns with charming architecture, or soak up the sun on the white sand beaches. This state caters to nature enthusiasts, history buffs, and beach lovers alike.
North Carolina/South Carolina/Georgia/Tennessee: Head to the historic towns of Outer Banks for all things beach related, great for kite surfing, boating and exploring the nearby islands in SC and NC. If you're not a beach bum, head over to the Great Smoky Mountains National Park easily accessible through NC or TN.
Illinois: Illinois beckons with its vibrant city life, free concerts, and incredible cuisine. Enjoy the summer weather in Chicago, where you can relax on the shores of Lake Michigan or unwind at the city's very own mini beach. Indulge in the diverse culinary scene and explore the cultural attractions this state has to offer.
Massachusetts: While Boston and Cape Cod are popular destinations, Massachusetts has so much more to explore. Discover historic towns, venture to Mayflower for miles of swanky beaches, or indulge in the foodie haven of the city and its surrounding areas. Massachusetts blends history, natural beauty, and culinary delights into an unforgettable experience.
Washington: If epic mountains and stunning landscapes call to you, Washington State is the place to be. With easy access to neighboring states like California and Oregon, Washington offers unparalleled opportunities for outdoor adventures. Hike, camp, or explore the beauty of the Pacific Northwest.
Oklahoma: Oklahoma surprises with its unique attractions. Fly across sand dunes on ATVs in Waynoka, enjoy fishing while sipping on an ice-cold root beer, or join the state's largest outdoor picnic and stomp some grapes. Oklahoma provides an offbeat and enjoyable summer experience.
Finding the Right Housing
Finding the right housing for a travel assignment can be made easier with these resources:
Furnish Finder by Gypsy Nurse: Connects travelers with furnished housing options.
Focus Staff & Partner Discounts: Utilize agency resources and discount codes for housing.
ShortTermHousing.com, Airbnb, and Vrbo: Explore a variety of short-term rental options.
Research average prices of 1BR and 2BR units in popular cities.
Zumper: Get rent research reports for estimating travel costs.
Rakuten: Sign up for cash back rewards when booking online with select companies like VRBO and Extended Stay America.
With these tools and platforms, travel healthcare workers can streamline their housing search, find suitable accommodations, and potentially save on rental expenses. Remember to consider factors like location, amenities, and personal preferences when making housing decisions. Happy traveling!
Missed the webinar? Watch it here: Your Summer Guide to Travel Assignments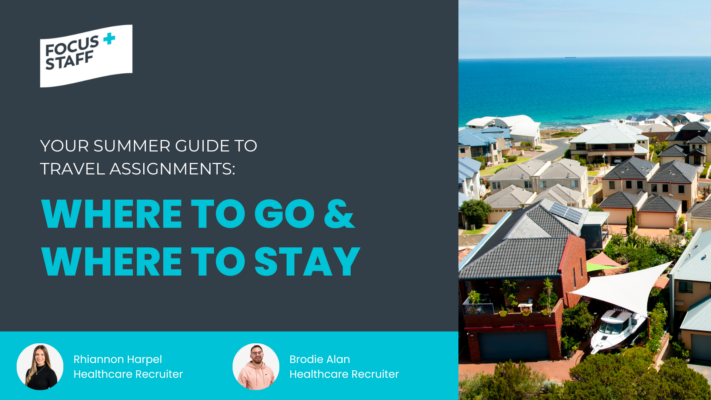 If you aren't already heading to your next assignment, let's chat! 😊
Email [email protected] to get connected with a recruiter!
Apply Here to get started today!
Like what you're reading? Read more here: The Best Travel Nurse Housing Options: A Comprehensive Guide