It should be no secret that for the past year, the COVID-19 pandemic has turned the healthcare job market upside down.
In fact, it has created definite peaks and valleys.
For nurses, physicians, techs and other travel healthcare professionals, demand skyrocketed for COVID-related specialties – while decreasing in areas such as elective surgeries.
What Goes up Must Come Down
The demand and number of travel healthcare jobs nationwide peaked in January 2021 following the holidays. Coincidentally, January is also typically the No. 1 month for healthcare travelers to start a new assignment. Pay rates also peaked. For example, some hospitals and locations were offering traveling RNs up to $125 per hour or more depending on their specialty.
Traditionally healthcare travelers are used to asking for increased rates when extending a contract or starting a new one, but that's not the case any longer and travel professionals should come to grips with the reality that rates will be coming back to pre-COVID "normal."
As we move deeper into 2021, and more people in the U.S. become vaccinated, the decreased spread of COVID-19 will slow the demand somewhat for healthcare travelers. As of this writing, more than 332 million doses have been administered, fully vaccinating over 158 million people or 47.7% of the total U.S. population, according to federal data. However….
Healthcare Hiring Still Trending Up
Even at current infection rates the need for nurses and associated traveling healthcare professionals is still high. In addition, with fewer COVID-19 hospitalizations, hospitals and health facilities will also be ramping up elective surgeries again, which will increase the demand for travelers in those specialties.
What's more, a recent report for 2021, stated that the healthcare job market will continue to trend up with 37.4% of hospitals surveyed anticipating an increase in their labor force.
Opportunities for travel healthcare pros are still out there. So as we move into mid-2021, we at Focus Staff have compiled the current top 10 job disciplines for travel healthcare workers based on our most recent data: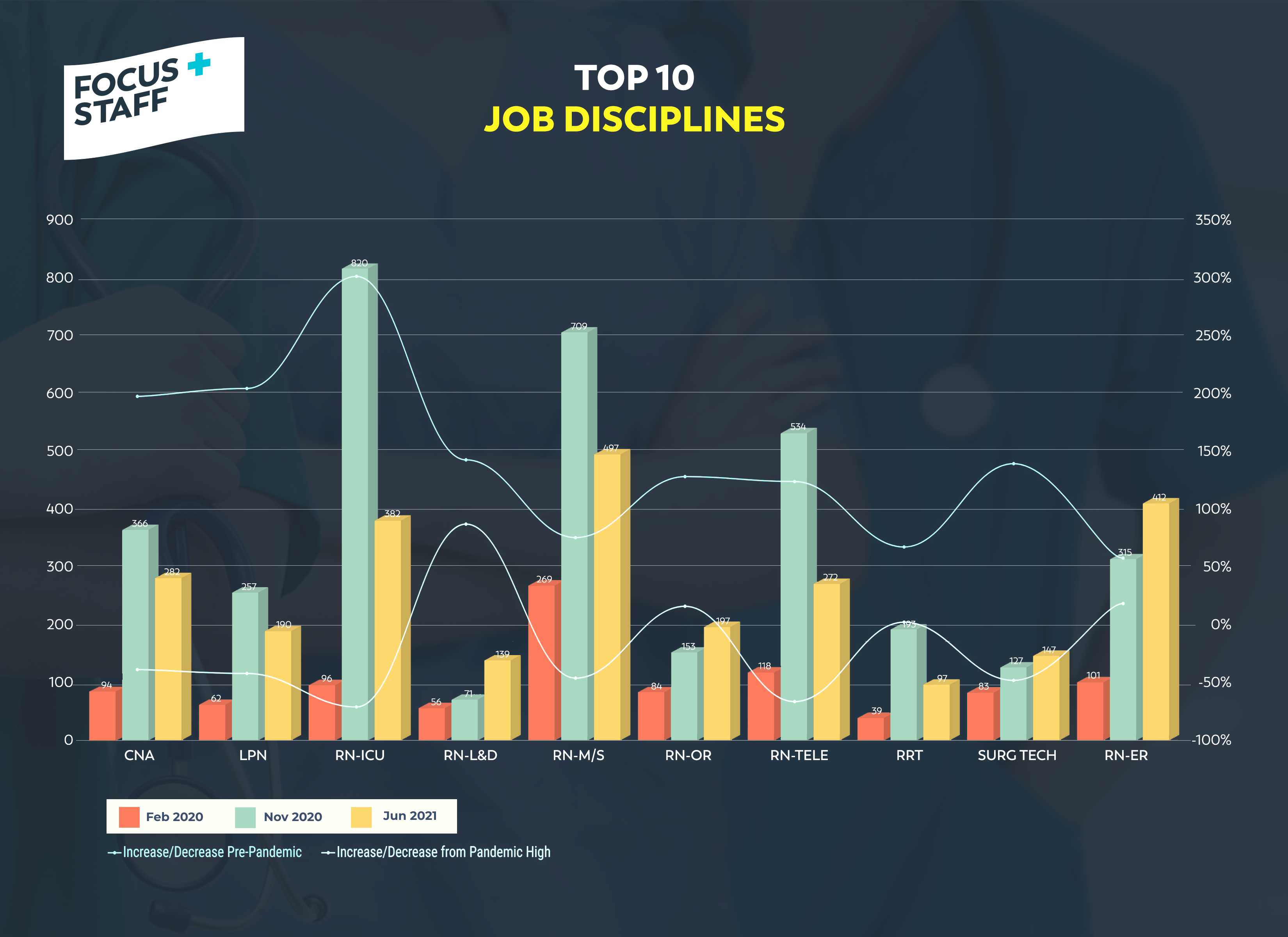 What this chart shows is that the need for healthcare professionals – especially RNs – was through the roof during 2020 and into early 2021. It also shows that even through hiring has decreased from the pandemic high, in many cases, there is still demand.
The bottom line is, though the pandemic has peaked, and hiring has calmed down to more normal, pre-pandemic levels, the need for experienced traveling nurses and healthcare professionals is still there.
For travelers interested in earning more than their usual pay and helping out in pandemic hotspots, opportunities are ready to be filled. Just don't assume that the high COVID rates are still available (nothing lasts forever)!
But travel pay is still excellent and the choices of assignments and locations are there for the choosing. If you love exploring new places, a traveling healthcare career is still very rewarding for many different healthcare disciplines including nurses, therapists, techs, and more.
At Focus Staff, we understand the ins and outs of traveling healthcare professionals during these challenging times and have access to a wide variety of excellent professional opportunities. To learn more, contact us today.