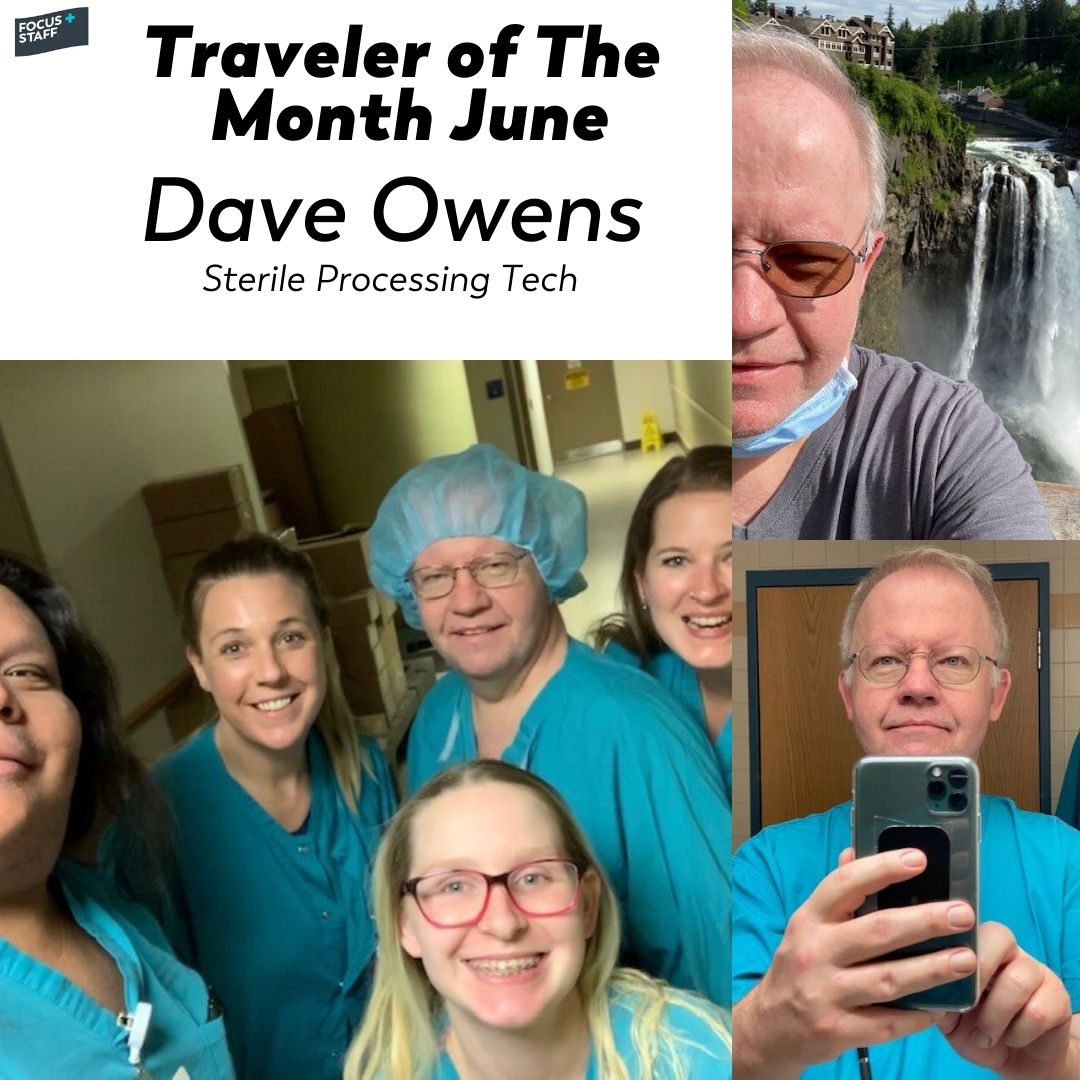 As we do every month, we want to express our gratitude for one of our Focus Staff travelers in particular one who has gone above and beyond time and time again.
[Drumroll, please.]
Our June 2020 Travel Nurse of the Month is Dave Owens. Dave has been with Focus Staff for over a year, completing 3 assignments with multiple extensions. He was referred to Focus Staff by another Focus Staff traveler, everyone admires Dave's hard work ethic, his adventurous attitude, and positive outlook on life! His recruiter Holly B. also has stated, "he has a light heart and loves how he enjoys traveling, it's not all about the money for Dave, it's also about the experiences." Dave has great recommendations and we love having amazing people on our team, he is exactly what Focus Staff represents! #FocusFam
Let's Get To Know Dave:
Why do you love working with Focus Staff?
Dave: I like that I have been able to travel where I am seeing new and exciting places. The people I am working with have been incredible. Focus Staff has made this possible. My recruiter, Holly, knows what it takes to motivate me in such a way that I look forward to achieving each step towards going to my next assignment.
What do you love about your job?
Dave: I am doing my part to be a part of a greater healthcare team. Because of what I do everyone else can make the clients experience better.
If you were not a Sterile Processing Tech what would you be?
Dave: This is a good question. I've tried being a nurse, but something always ended up in my way. At this point, I might pursue radiology.
What is a work-related accomplishment that you're proud of?
Dave: I have had some college and I have to say my degree in biology has helped me bring some forethought to what we are doing. I've been able to leave and use ideas I learned in those classes. I couldn't begin to tell what those ideas have been, but I carry my own magnifying glass with me.
What's the first concert you ever went to?
Dave: I had a friend take me to Cyndi Lauper's pride concert. That is the last one I recall going to.
What's the top destination on your must-visit list?
Dave: A warm tropical island with a state-of-the-art hospital. I'd like to see how it's ran.
If you could only have three apps on your smartphone, which would you pick?
Dave: Twitter, Instagram, and Facebook. Though I need to add YouTube to this as there are videos that relate to what we do as SPD Techs and can be invaluable in training. Example: I looked up T-Probes because I was expected to clean and maintain one and I had never seen one. I was always on overnights, but I found several training videos to help out.