The average nurse takes around 986 steps per hour. On a regular 12-hour shift, that's 11,382 steps or roughly 5.5 miles. Per day. Just walking around, being nurses.
That's a lot of walking. So why waste those steps on the wrong wearable?
Today we look at a few of the more popular fitness wearables — and give you but our humble opinion. Because seriously, you could get a full workout just reading fitness wearable reviews.
But before we even get into that, it boils down to one question: what do I want out of a wearable? Some are good at fitness, and that's about it. Some are good as smart watches but not so great at fitness. Some you can wear with a fancy outfit, while others are more utilitarian in design. So it's important you know what your goals are for this device before you jump into any $300+ decision.
Okay, on to the reviews.
1) Apple Watch (Gen 3) – $329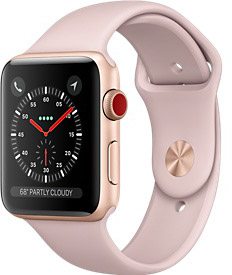 First off, the gen 3 Apple Watch is a great all-around wearable. It does notifications. It does apps. It does LTE, GPS, NFC, music storage and streaming. Plus, it looks awesome. Its heart-rate monitor isn't known to be the most accurate, and we've found that depending on if you use it for more than walking, gets inaccurate pretty quickly. Debuting in April of 2015, they are now almost as ubiquitous as the old school "Ironman" watches of days past. For step and fitness monitoring, we'll say that the access to that data is labored when compared to others' in this list. That, and navigating Apple's Health app for deeper insights is disappointing when compared to other brands' companion apps.
Pros: Beautiful, tons of functionality and apps, step tracking, activity reminders & LTE.
Cons: Pricey. A great smartwatch, but not an excellent fitness tracking device.
Our verdict: An awesome all around smartwatch. Beautiful and easy to use, but not a great fitness device.
---
2) Fitbit Charge 2 – $129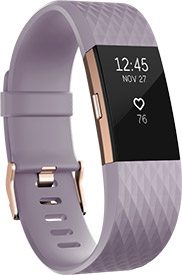 "Fitbit" in many ways was first on the scene, and synonymous with fitness trackers. That being said, the Fitbit Charge 2, their #1 tracker, adds on-wrist heart rate tracking, plus smartphone connectivity, multisport functionality and much more. At a reasonable $129, 6 attractive variations, all in a slim package, it does a great job at step counting, activity reminders and workout tracking. The Fitbit app offers more useful fitness metrics for the more serious athlete. Fitbit also offers additional smart devices, like scales and body monitors, that pair with the suite of products to give you an even more connected and insightful look into your health.
Pros: Nice looking, reasonably priced, great battery life, a helpful companion for the moderately active traveler.
Cons: Lacks water resistance and GPS.
Our verdict: A really solid health tracker. Not a smartwatch, but a great health companion.
---
3) Garmin Vivoactive 3 – $279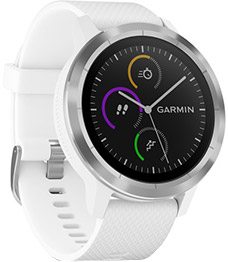 We're just going to come out and say it. The Garmin platform is our personal favorite. This particular device (since they offer a pretty deep portfolio) is beautifully designed, super functional and easily offers all the standard health and fitness metrics in a matter of fact kind of way. The real secret weapon to this device is the Garmin Connect app. Designed for all ranges of athlete, the marriage of hardware and software brings loads of insights – run pace, elevation, cadence, splits, lap paces, even a rough idea of your VO2 Max. If "fitness," or "doing more than sitting" isn't your thing, it does everything else really well – notifications, step counting, reminders, even NFC for payments.
Pros: Light, beautiful design, incredible fitness tracker and industry leading companion app.
Cons: Display isn't as crisp or vibrant as Apple Watch.
Our verdict: We're all about adventure, so this watch does it all. Smart-watchy things, fitness-watchy things and looks sick doing it.
---
4) Xiaomi Mi Band 2 – $40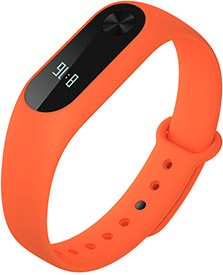 At straight up forty bucks, the Xiaomi Mi Band 2 is the cheapest in this list by a light year, but that doesn't mean it can't perform. Offering step counting, smart alarms, incoming call alerts, and even heart rate monitoring, this minimally designed device is decently equipped, for basically free. The app experience can be a little wonky, and the insights aren't that deep, but for $40, it could offer a helpful foray into the world of health tracking.
Pros: Inexpensive, useful and basic tracking, slim, elegant design.
Cons: Wonky app experience, not a great fitness device, minimal "smart" functionality.
Our verdict: For a bare-bones activity tracker in a nice looking package, why not!
---
So, there are a few options that we've considered, and we tried to keep the list brief, but it all comes down to what kind of goals you have. For those looking for a super stylish, really functional smartwatch that can do lots of fun stuff – it's all about the Apple Watch 3. For those who are looking for a really decent fitness tracker, and who are looking for that bit of inspiration to start getting in shape, the Fitbit Charge 2 is a great option. If you're into fitness, challenges, pushing your limits and owning a freaking sweet device, then snag a VivoActive 3 by Garmin (you'll be cool). And finally, for those want to dip their toe into the world of health tracking while not spending a lot of your monies, the Mi Band 2 could be just the device for you.
At the end of the day it's all about balance, and finding what suits your lifestyle. There are so many products, that do so many incredible things — get out there and find what you like and remember, It's About the Journey™